If you, like me, went with the entry level Steam Deck option with only 64 GB of internal storage, you likely realized quite soon that some games wont fit on it.
One option is to use the microSD expansion card slot. For current-gen games the throughput of only about 150 MB/s does not seem to degrade loading performance compared to a NVMe SSD.
However, given that the internal storage is upgradable, the only logical choice for keeping your PC master race status is to cram in the fastest NVME SSD inside that thing.
Specifically, you will need a one-sided SSD in the M.2 2230 for factor so it fits the space inside the Steam Deck.
I went with the KIOXIA Client-SSD BG5 512GB. Kioxia is the Toshiba spin-off for SSD drives, if you wonder about the brand. Although it is a PCIe 4.0 drive, its peak read throughput of 3.5 GB/s is within the practical limits of PCIe 3.0 of the Steam Deck.
Also, the active power consumption of 4.1W is quite close to the 3.8W drawn by the custom PHISON PS5013 E13 SSD that Valve uses.
You can follow the iFixit Guide for the steps to actually swap the SSD. Make sure to transfer the ESD shielding wrap to the new SSD.
To get Steam OS on the new drive, follow the official recovery instructions and select the "Re-image Steam Deck" script.
This will install Steam OS on the blank SSD – similar to how you would install Ubuntu from a live USB.
Benchmarking results
Next, I wanted to actually compare the speed of the upgraded NVMe SSD with the one of the stock eMMC memory. To this end I used KDiskMark – an open-source alternative to CrystalDiskMark that runs on Linux natively.
The tests were performed on SteamOS 3.3.1 using KDiskMark 2.3.0.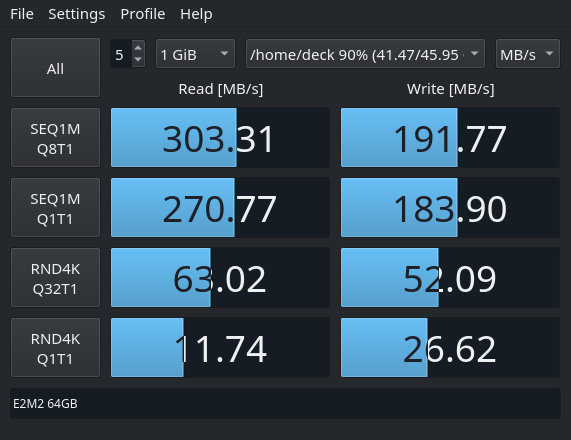 In short, the NVME offers roughly one order of magnitude faster throughput over the eMMC.
Whether you feel this in-game, highly depends on the given game. For older titles, even the eMMC is so fast, that you cannot read the hints on the loading-screen. However, for something like the Flight Simulator 2020 that shuffles huge assets around, it will surely be noticeable.
Finally, the peak read performance of 3.5GB/s is not reached. This might be due to the PCIe 3.0 bottleneck – I did not bother putting the drive in a PCIe 4.0 device. Still, there is a significant advantage in writing performance over the older Kioxia BG4 series, that only do 1.4 GB/s.